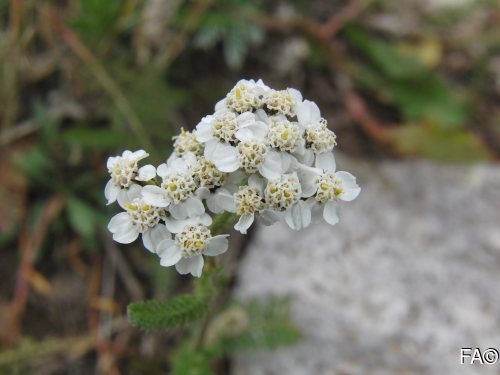 Flower Identity
Scientific Name
Achillea millefolium
Scientific Family
Asteraceae
Common Name(s)
Milfoil
Woundwort
Yarrow
Flower Characteristics1
Standard Height
5 cm
0′ 2″
Bloom Season
Throughout the spring and summer
Flower Details
Small flowers that grow in bunches at the top of the stalk.
Terrain
Mountainous, sunny, dry, and often rocky locations
Poisonous Parts
Can cause allergic reactions. Toxic to many animals.
Edible Parts
The plant can be eaten to utilize some of its medicinal properties, but it should not be used as a food source.
Additional Information
It has been used throughout history as a way to heal by staunching the blood flow of wounds. It has a mild numbing effect.
Locations
Images
Related Flowers
Upload a Photo
Please
Login
to upload a photo